Sleeve Gastrectomy (Obesıty Surgery)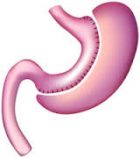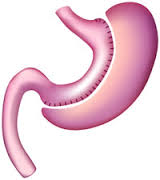 Sleeve gastrectomy (Bariatric Surgery) for obesity
What is Obesity and Obesity Surgery ?
Obesity is evaluated by calculating the body mass index (BMI) of a person. BMI: body weight (kg) / square body height (kg/m2).
Individuals with a BMI over 35 kg/m2 are accepted to have severe obesity. Rate of obesity and severe obesity in the society is over 30% and around 17%, respectively in Turkey.
Obese individuals are under the risk of developing diabetes, high blood pressure, stroke, disorders of lipid metabolism, sleep apnea, cancer, non alcoholic fatty liver disease and metabolic syndrome. To overcome the risks, diet, medical treatment and life style changes are recommended; however, individuals may not always be successful in losing weight.
Therefore, obesity surgery has been established and has been proven to be effective in weight loss and prevention or cessation of progression of the severe diseases stated above.
Sleeve gastrectomy or gastric bypass results in weight loss of about 50% of the overweight of the patients in the first 6 months postoperatively. Weight loss slows down a little after the first 6 months; however it is continued up to 2 years postoperatively.
Who are candidates for Obesity Surgery ?
Patients with a body mass index (BMI) ≥ 35 kg/m 2

BMI: 30-35 kg/m2 with additional disorders associated with obesity (type -2 diabetes with poor control, metabolic syndrome, cardiovascular diseases, severe joint diseases, gastroesophageal reflux, psychological problems associated with obesity, sleep apnea, etc.)
To undergo obesity surgery, one should try to lose weight but be unsuccessful in it or he/she should not keep that low weight in case he/she had lost weight previously. Thus, obesity surgery is good for individuals who frequently lose weight and then gain weight again.
Contraindications for Obesity Surgery (conditions when Obesity Surgery should not be performed):
No medical management previousy for obesity.

Inability to comply with long term medical follow-up and treatment.

Untreated psychotic disorders, major depression, personality and eating disorders (unless obesity surgery is recommended by an experienced psychiatrist) .

Alcohol and/or substance abuse.

Presence of life threatening diseases (severe cardiovascular disorders, malignancy, etc).

Inability to provide self-care and absence of long term family or social support.
Types of Currently Performed Obesity Surgery :
Sleeve gastrektomi

Gastrik by-pass

Duodenal switch

Bilioopancreatic diversion

Laparoscopic gastric plication
Sleeve gastrectomy is the most satisfying and most frequently used operation although many types of operations can be performed for obesity surgery. Sleeve gastrectomy is technically easier compared to gastric bypass, duodenal switch and biliopancreatic diversions and has lesser complications. The other operations are also performed in certain situations in which your primary surgeon will decide.
Preoperative Evaluation of Patients:
The patients are evaluated by professionals of several medical specialities. One or more surgeons experienced in laparoscopic and obesity surgery, anesthesiologist experienced in management of obesity, endocrinology and metabolic diseases specialist, cardiologist, psychiatrist, physical therapy specialist and a specialist bariatric dietician should be among the team members in addition to experienced operation and ward nurses in the management of hospitalized obese patients.
Preoperative evaluation of patients who will undergo obesity surgery is no different than any other major abdominal surgery. The tests to be performed preoperatively are almost same and some additional tests are required associated with the metabolic condition of the patients.
Preoperative consultations:
1. General Surgery
2. Endocrinology and Metabolic Diseases
3. Pulmonology (Pulmonary Diseases)
4. Cardiology
5. Dietetics and Nutrition
6. Psychiatry
7. Physical Therapy
Preoperative Laboratory / Radiology / Endoscopy Tests :
Blood Tests:
Whole blood count
PT, INR, aPTT
Anti-HIV, ELISA
Hepatitis B (HbsAg)
Hepatitis C (HCV) IgG
ALT (SGPT)
AST (SGOT)
Albumin
BUN (blood urea nitrogen)
Hemoglobin A1C (HbA1c-glycosylated hemoglobin)
Insulin , fasting
Blood glucose
Cholesterol, HDL
Cholesterol, LDL
Cholesterol, total
Cortisol, serum
Creatinine
Potassium
Protein, total
Sodium
T4 (thyroxin), free
TSH (Thyroid stimulating hormone)
Triglyceride
Radiology:
Chest X-ray, PA
Abdominal ultrasonography (whole abdomen)
Bilateral lower extremity venous Doppler Ultrasonography (RDUS)
Pulmonology lab:
Pulmonary function tests
Cardiology Lab:
Transthoracic Echocardiography
Endoscopy Unit:
Upper GI endoscopy (esophagogastroduodenoscopy)
Any consultant may order additional tests other than the laboratory tests stated above, such as sleep apnea test (polysomnogram) which requires staying one night at hospital.
What should you do the night before the Operation:
You will be prescribed an anticoagulant drug (usually low molecular weight dextran ) to be administered subcutaneously the night before at around 7 pm. In addition a prescription for a purgative drug to clean your bowels will be given to be administered the night before the surgery.
You are asked to not to eat anything after 8 pm and not to drink anything after 12 pm (midnight) the night before.
Operation :
In this section, the most commonly applied type of surgery will shortly be described:
Sleeve Gastrectomy (Tube Stomach):
This operation is generally performed laparoscopically and a big part of the stomach is taken out. The volume of the stomach is reduced to 15% of the original size.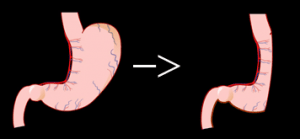 Laparoscopically, generally 5 small incisions are made on the abdomen (belly) ; one of those wounds is measured 1.5 cm, the rest measures 0.5-1 cm in length. Very small wound scars or no scars can be seen postoperatively.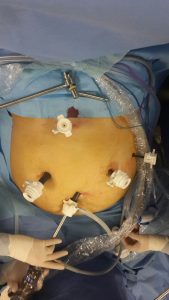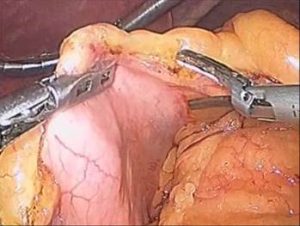 Postoperative:
You will be transferred to a normal room or intensive care unit according to the preoperative and perioperative evaluations. Patients with sleep apnea syndrome may stay in the intensive care unit. You will receive nothing by mouth for 1 or 2 days. A passage graphy is obtained on the postoperative 2nd or 3rd postoperative day at the radiology department. You will swallow a glass of water with contrast material in it and radiographs will be taken at the same time. Then, if the passage is good with no leaks, you will be fed by mouth by liquids. Sometimes your doctor may order another test before you are allowed to drink liquids; this is called methylene blue test. You drink a glass of water with methylene blue in it. It dyes your mouth blue and your urine may be greenish blue for one day; there is nothing to worry about it. After this second test, you will be given liquids to drink. You shoul drink one glass of water in half an hour, give a break for half and hour and then repeat the cycle. You will generally have a drain in your belly. After you are fed liquids, this drain is taken out. You will be discharged on the same day.
What to expect during the stay at hospital:
You may feel postoperative pain, therefore pain killers are ordered by the surgeon.
Patients with sleep apnea syndrome are applied a mask and they breathe by the help of a mask. This is tried preoperatively if required.
You will be given prophylaxis for deep venous thrombosis and pulmonary embolism. You will be required to walk twice on the first postoperative night and more during the postoperative days. Blood is taken every day for laboratory tests.
Discharge recommendations:
1. Anticoagulation (subcutaneous injections are given for at least 10-15 days)
2. Antibiotics (as required)
3. Pain killers
4. Drugs to prevent gastric acid formation
5. Drugs to protect gastric mucosa
6. Multivitamin
What to expect when discharged:
You will drink fluids as recommended by your surgeon and dietician and should not eat or drink anything other than the recommended foods and quantities. Otherwise you may vomit. Belching or hiccups may be experienced but should not be continuous. Vomiting rarely can happen, you should not be alarmed for vomiting once or twice during all the postoperative course.
You are expected to stay in the city for several days and see your doctor and dietician after your discharge from the hospital. Your doctor will plan the time of your flight from the country.
You will be provided a list of what to eat and drink for the next 6 months.
You should contact the operating surgeon or your local physician when you have
1. Fever (≥ 38 0 C)
2. Swelling and/or redness in one leg (difference between the diameters of the leg more than 1-2 cm)
3. Swelling and/or redness at one of the abdominal incisions
4. When the patient cannot eat or drink anything due to continuous nausea and/or vomiting
SHORT BRIEF OF WHAT TO PLAN WHEN YOU COME TO ISTANBUL FOR OBESITY OPERATION:
On arrival to the City,
1. Preoperative tests and consults (2 days)
2. Operation on the 3rd day
3. Discharge on the 5th or 6th day of your stay
4. Flight back to home on the 10-11th day of your stay (you will visit your doctor and dietician once or twice before you leave. If your physician permits, you may fly back home earlier, for example the day after your discharge).
(in case any problems occur, your stay might be lengthened).